Music
At Beech Grove, we follow a scheme of work called 'The Charanga Musical School Scheme'. This comprehensive programme supports clear progression and provides engaging contexts for the pupils' learning. Please click on the links below to see an overview of our curriculum and progression in this subject.
Music Curriculum Overview A Music Curriculum Overview B
Music Progression Knowledge Organisers Years 1 to 6
Please scroll down to the bottom of this page to see our recent performances
INTENT
At Beech Grove Primary School, we recognise and understand the importance of music in our lives. Music is a universal language that embodies one of the highest forms of creativity. A high-quality music education should inspire our children to develop a love for music and grow skills to become young musicians. Such skills will increase self-confidence, creativity, and a real sense of achievement. As the children progress through school, they should develop a critical engagement with music allowing them to listen with discrimination, develop composition skills and truly engage with the emotive essence of all genres and styles of music.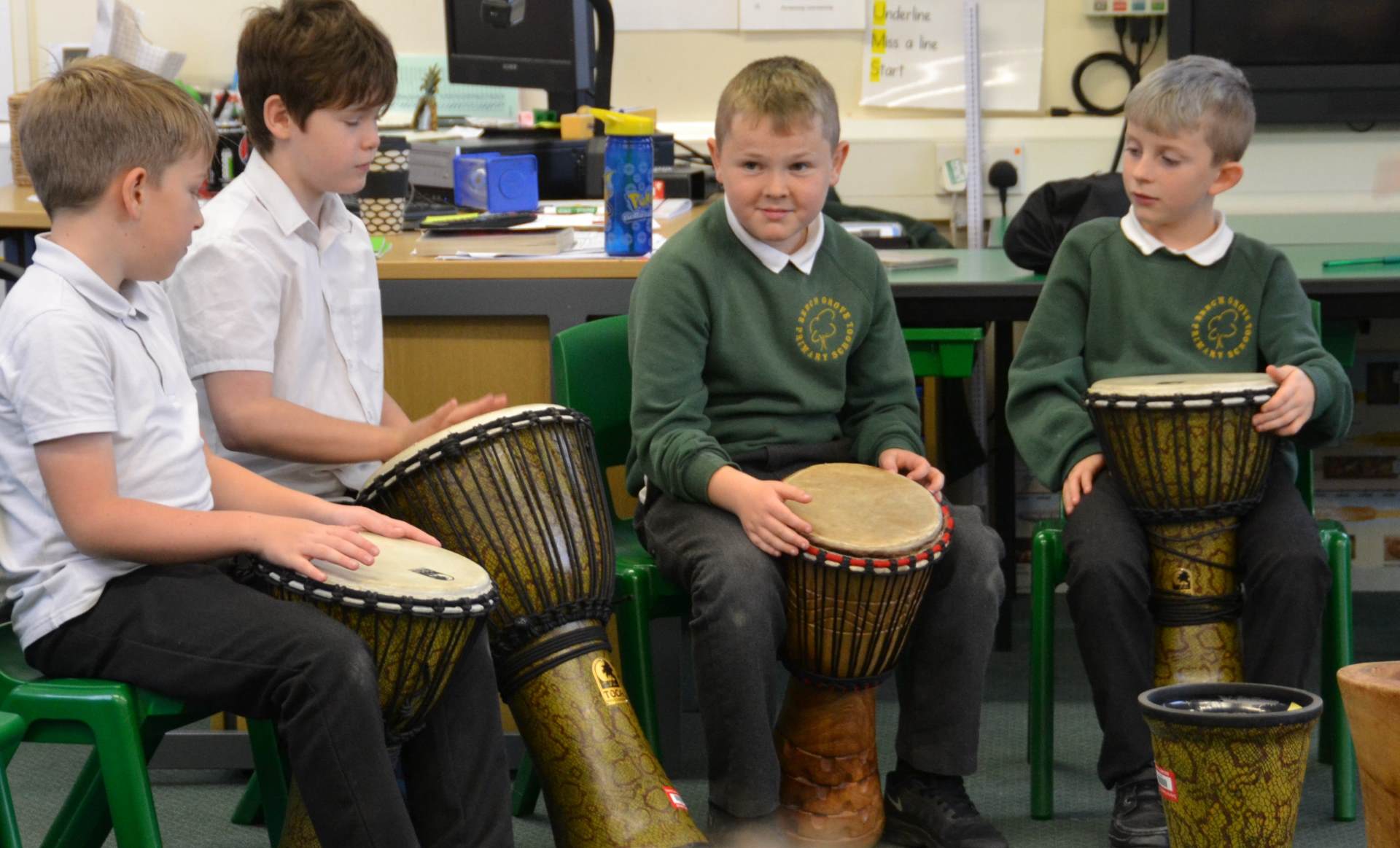 We aim to introduce our children to the magic of music. Music is a practical and creative expression of ideas, thoughts and feelings. It provides opportunities to promote children's spiritual, moral, social and cultural development. Music contributes greatly to the ethos of our school.
In line with the National Curriculum aims, we ensure all our pupils:
perform, listen to, review and evaluate music across a range of historical periods, genres, styles and traditions, including the works of the great composers and musicians
learn to sing and to use their voices, to create and compose music on their own and with others, have the opportunity to learn a musical instrument, use technology appropriately and have the opportunity to progress to the next level of musical excellence
understand and explore how music is created, produced and communicated, including through the elements of music: pitch, duration, dynamics, tempo, timbre, texture, structure and appropriate musical notations.
Music is taught across the EYFS and is an integral part of the Early Years framework. In the reformed 2021 EYFS curriculum, music goes hand in hand with the 'Being Imaginative and Expressive' Early Learning Goal.
IMPLEMENTATION
We maintain and stimulate pupils' curiosity, interest and enjoyment of music through the effective teaching of our scheme of work. The 'Charanga' scheme of work allows our children to develop the necessary skills to progress in line with the National Curriculum standards. Wherever possible, meaningful links are made with other subjects in the curriculum.
Children are actively involved in using and developing their own unique singing voices, using body percussion, whole-body actions and handling and playing school instruments. Through a range of whole class, group and individual activities, the children have opportunities to explore sounds, listen, compose and perform.
Throughout the school year, our children have opportunities to enjoy lessons on tuned instruments such as the ukulele, recorder and glockenspiel as well as untuned percussion to include Djembe drumming and Samba which is delivered by Somerset Music and Mrs Blake, our music subject leader.
Teachers also have access to 'SingUp' which is used to support singing across the curriculum for all ages. This is an excellent resource for both specialist and non-specialist music teachers; it can be used in lessons or during assemblies as it links to a range of topics, curriculum subjects and special occasions such as Harvest and World Book Day.
We provide children in KS2 with the opportunity to learn either the keyboard or guitar from our peripatetic music teachers on a weekly basis for a small charge. They can have individual or paired lessons during the school day and are encouraged to perform during assemblies throughout the year as well as in an end of term concert.
Rocksteady, in-school band lessons are also a perfect opportunity for children to learn new skills, develop friendships through music and enjoy performing some of their favourite songs.
At Beech Grove we have a singing assembly every week for EYFS/KS1 and for KS2. We have a successful choir available to all children in KS2. We are very proud of our choir who regularly perform to audiences, both in and outside school. Our choir have performed at Wellington Park, Wells Cathedral and for the Wellington Christmas Light switch on evening. They also perform at a number of residential homes and for various community groups as well as singing outside of our local Co-op.
IMPACT
The integral nature of music and the learner creates an enormously rich platform from which a child may access a multitude of life skills.
It is well known that music is a very social subject. At Beech Grove Primary School, our children are given opportunities to perform as an ensemble to a variety of audiences. By working together to make music, our pupils learn that by working cooperatively, and taking responsibility for their role, they can make a beautiful end product.
Music is the foundation of a culture. It influences thoughts, language, celebrations, events, fashion, and helps us to find an identity. Using the Charanga scheme of work, our children are shown a variety of cultural music to deepen their understanding of the importance of inclusion in our world. In demonstrating the importance of inclusion, we develop our local community by nurturing future leaders to show respect to all people from all walks of life.
We hope that all of o
ur pupils enjoy the experience of developing their musical skills. If your child is interested in learning the guitar, keyboard or progressing once they have completed their whole class tuition, please speak to Mrs Blake (our music leader).
Beech Grove Performances
Rocksteady Concert - December 2021
Take a look at the fantastic performance from our incredible Rocksteady school band. They have only been working together for a term, but I am sure you will agree, they have made excellent progress.
https://safeshare.tv/my/safeviews/18fB8SacT5Y/play
Christmas Music Service - December 2021
We are delighted to share with you our fabulous Christmas service. The children's singing and musical talents are wonderful to see. Well done everyone!
https://safeshare.tv/my/safeviews/aE3w9JOtpeg/play
Harvest Festival - October 2021
Enjoy watching a snapshot of our Harvest festival this year which involved the whole school performing their favourite songs and poems.
Please click on the link: https://safeshare.tv/my/safeviews/kMOq0RioHxE/play
End of year concert - July 2021
We are delighted to share our end of year 2021 concert with you. Please click on the link: https://safeshare.tv/x/-FGpwucbxh4
Music at Christmas time - December 2020
Robins, Otters, Foxes, Kites and Kestrels classes, as well as our keyboard and guitar learners, have enjoyed making Christmas music! Please watch and enjoy this virtual Christmas concert.
We would like to thank Mandy Grant and James Eady, our music teachers, for their support and hard work in teaching individual music lessons safely throughout this term. Many thanks to Miss Martin for co-ordinating the editing and making of the video. Please do not post or share these recordings on social media.
Songs from Sing Up are covered by CWCL licence.
https://safeshare.tv/x/EEF1BxdBsFw