WELCOME TO ROBINS
We are a Year 3/4 class and our teacher is Miss Amy Walsh
Summer 1 Class News
What a busy 5 weeks we have had! This half term, we have done so much to enable the children to have hands on, memorable experiences which in turn, will help their learning and knowledge to stick. Here is a little bit of what we have been up to:
We started off the half term with science week, where as scientists, we explored the sus
tainability of our world. We enjoyed visits from Somerset Waste Partnership, Nissan, Fibreboard and the RSPCA.
We have thought about mental health and the benefits exercise can bring to not only mental health, but our overall health and fitness. The children enjoyed a yoga lesson with a specialist teacher, cricket on the cricket ground and a visit from the Archie Project where they danced the afternoon away and learnt that physical exercise can reduce the risk of developing dementia by 30%.
As historians, we have looked at the history of Wellington. We found out about Sir John Popham and his influence on our town. A visit to St John's Church gave us the opportunity to interview an expert and visit John Popham's memorial. We then focused on the Fox Brothers and had a visitor to school who explained the history of the company and what they do in our town today.
As scientists, we have visited
Wellington Park to learn about the function of the flower in the life cycle of flowering plants. We were able to observe insects carrying pollen from one plant to another.
Finally, we finished off the half term with a fun filled two days which involved a sleepover at school. The two days were about having fun, team building, building independence and creating memories, which I'm sure will last a lifetime. Walking the 3 miles to Wellington Monument was a great achievement for all and Flip Out
Spring 2 Class News
As scientists, we have continued to explore light. The planetarium visit really supported our science learning by allowing us to investigate why we have night and day. The children were able to explain what happens when the UK faces the sun and what happens when the UK faces away from the sun.
In RE, we have explored the question 'What is good about Good Friday?' We have learnt the Easter story and found out how Christians feel about Easter and how they mark this time of the year. On our visit to Wellington Methodist Church, the children took part in four different workshops about Easter, reinforcing the key knowledge they had been taught and further deepening their understanding of the significance of Easter for Christian people.
Spring 1 Class News
Our Year 3/4 Egyptian day was a great success! Somerset Heritage learning spent the day with us allowing us to do an archaeological dig and make a scarab amulet as well as holding an Egyptian bake off where we made date bread.
As designers, we also spent time working on our DT Egyptian toy project, learning to write using hieroglyphs and making papyrus. This inspiring day helped to reinforce the key knowledge the children have been learning as part of this topic. Well done everyone!
Autumn 2 Class News
We have had such a busy half term in Robins Class with so many amazing experiences.
We started the half term with a virtual geography experience where we wore a pair of head phones and explored the four countries of the United Kingdom. Our geography learning followed this with learning about South Wales.
In science, we have looked at forces and magnetics and were astonished to find out that the earth has its own magnetic field. We magnetised a paperclip and popped it on a piece of cork in water and were amazed to see that it turned north. We checked this using a compass.
Also, we have visited the church to support our RE learning, been involved in celebrations for Armistice Day and worked closely with Shane from the Archie Project. We all enjoyed the ice-cream van visit to school too!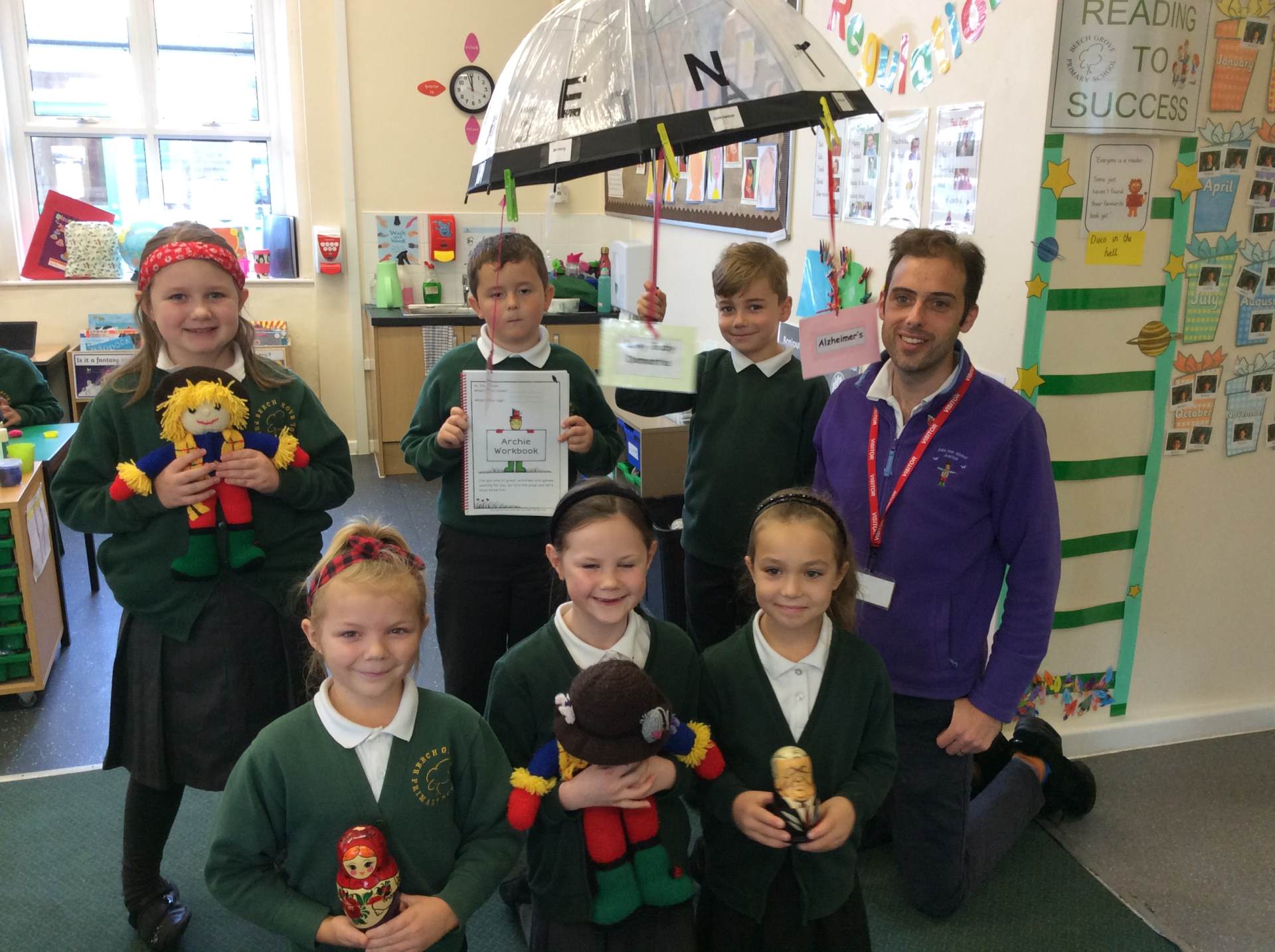 Autumn 1 Class News
What a busy start to the new school year! We have enjoyed learning the warning tale, 'Little Red Riding Hood' off by heart using our story map. We have developed our skills in creating a powerful setting in our writing and invented our own warning tales.
As scientist, we have been investigating rocks and now know the difference between sedimentary, metamorphic and and igneous rocks. We loved finding out which rocks are permeable and which are not and have enjoyed doing a different investigation each week.
In RE, we have enjoyed following our topic on Islam and in history we have been learning all about how people lived in the stone age and iron age.
Remote Learning
If your child is self-isolating because they are displaying symptoms of COVID-19 or they have tested positive for COVID-19, they can still access their learning from home, if they are well enough to do so. All remote learning will be emailed directly to you (it will no longer be uploaded on to the school website).
We appreciate that some children may be feeling unwell, and will therefore not be able to continue with their learning at home.
We hope you find your child's remote learning enjoyable and easy to follow. If you have any problems at all in accessing this learning, please do not hesitate to email your child's class teacher; we are here to support and guide you. Please photograph and email your child's work to the class email address which is:
robins@educ.somerset.gov.uk
.